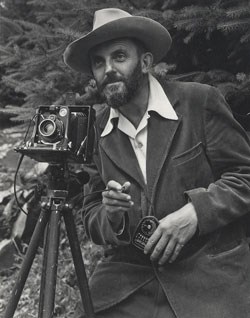 Ansel Easton Adams (1902-1984) helped establish photography as an art form. He was a photographer and environmentalist revered for his black-and-white landscape photographs of the western United States, and his commitment to the conservation of those lands. 

The Ansel Adams Gallery has been in business under the same family ownership since 1902. It is the oldest family business in the National Park System; not just Yosemite, but the entire National Park system!

Keeping a business going for over a hundred years is quite a feat, especially one in retail (not to mention art). What started in 1902 as Best's Studio, a painter's studio inside a tent by Ansel Adams' wife's parents, is now an anticipated destination for photographers and fans of Ansel Adams from all over the world.
Over the years, the painter's studio evolved into a gallery that represents and encourages an appreciation of the arts and the significance of protecting our precious environment. The Ansel Adams Gallery offers a unique selection of books, American craft, fine arts, alongside a remarkable collection of Ansel Adams original photographs. 

The gallery has a staff that includes climbers, photographers, hikers, and dog lovers who have a deep affection for Yosemite. They will help you find a perfect memory of your trip to one of the most breathtaking places on earth.
Read more about the 114 year history of the Ansel Adams Gallery, purchase original photography, history and reproductions of his famous works, as well as sign up for one of their many photography workshops and classes on the Ansel Adams website.